Le Griddle
Le Griddle is the best addition to complete & bring to life your outside garden. Discover & share new convivial cooking experiences with your family & friends.
Perfect for any meal, lunch, dinner & even breakfast. Cooking on Le Griddle is faster, easier & tastier. Large capacity, grill up to 30 steaks at once (41″ model). Unique in the world with a lifetime warranty & entirely made with stainless steel 304. Good as new after every use in just 3 minutes with only ice & a scotch bright pad.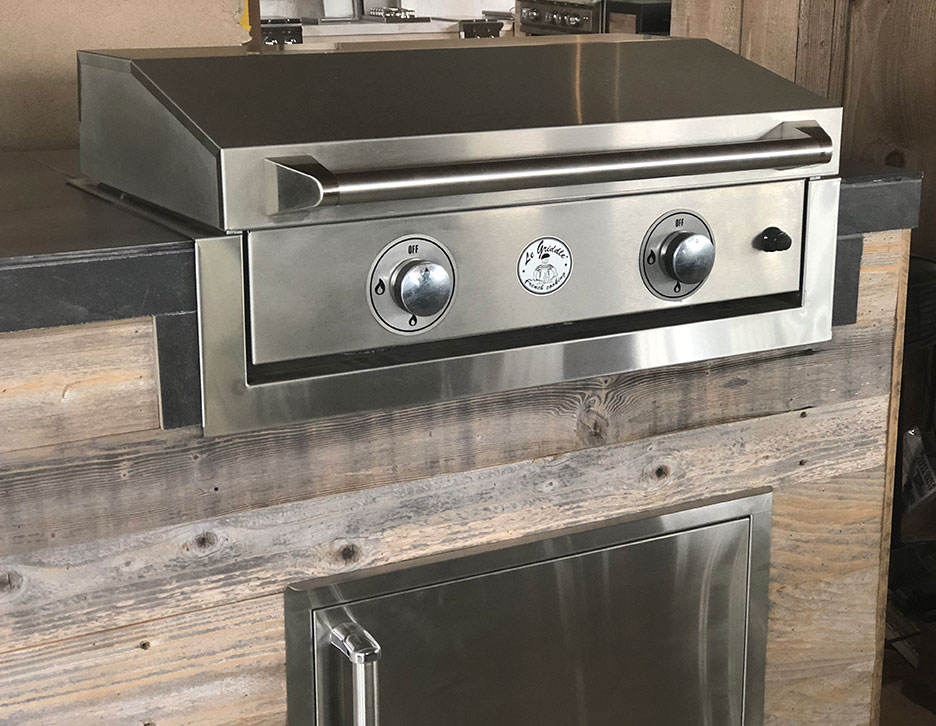 Le Griddle
The "Wee" Griddle, cook up to 12 burgers with 9 000 BTUs & a 16″ cooking surface. Perfect for tailgate! Free standing or built in.
The "Original" Griddle, serve up to 20 guests with 18 000 BTUs & a 30″ cooking surface. Free standing, built in or with a cart.
The "Ultimate" Griddle, perfect grilling for up to 30 people with 27 000 BTUs & a 41″ cooking surface. Free standing or built in.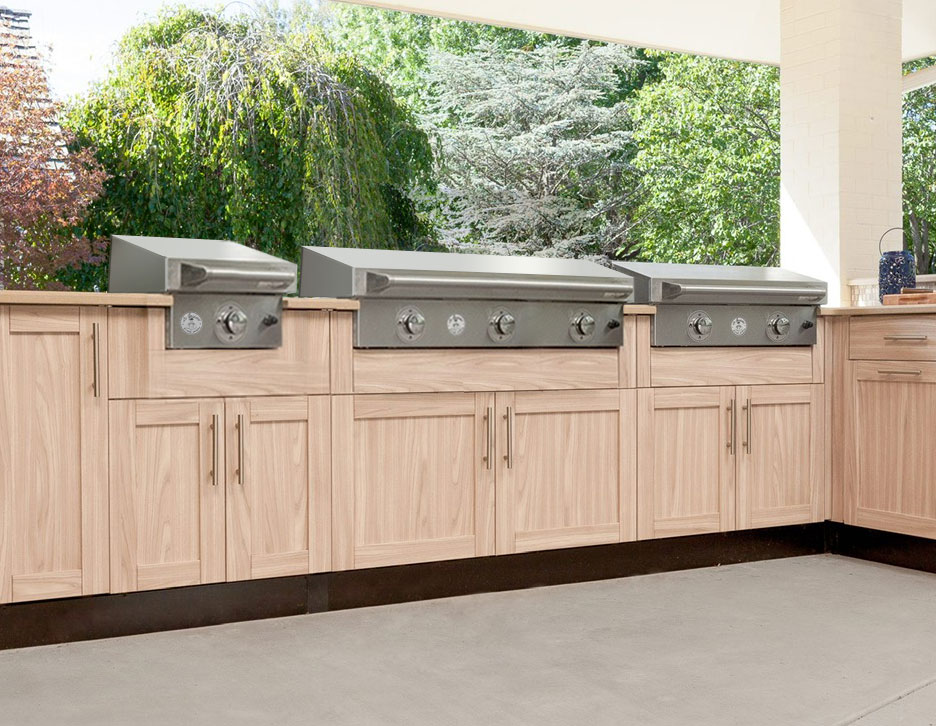 Cook tasty & juicy meals time after time, whilst preserving all the taste of the food.
Good as new in 3 minutes, efficient & easy cleaning with no chemical products.
Perfect cooking for any meal & any food, dinner, lunch or even breakfast.
Unique in the world, Le Griddle has a lifetime warranty for the cooking plate.
Le Griddle is available in 3 different sizes: 16″, 30″ & 41″. Each size is available as a counter top & built in, the 30″ can also be equiped with a cart, there is a model for everyone. Easy to accessorize with lids, covers & a starter kit. The 100% usable & efficient cooking plate has perfect heat distribution on the whole surface.
…Grill up the perfect burger with Le Griddle! Tasty, juicy and flavorsome homemade burgers just like your favorite restaurant.

Our entire product is a heavy-duty stainless steel 304 construction allowing easy cleaning & perfect cooking time after time. Durable high-powered burners with 9 000 BTUs each allows fast & efficient cooking. Designed for the highest quality food contact, Le Griddle does not rust & bacteria cannot develop. No need for coal or removing embers & no unpleasant smoke allowing a better cooking experience.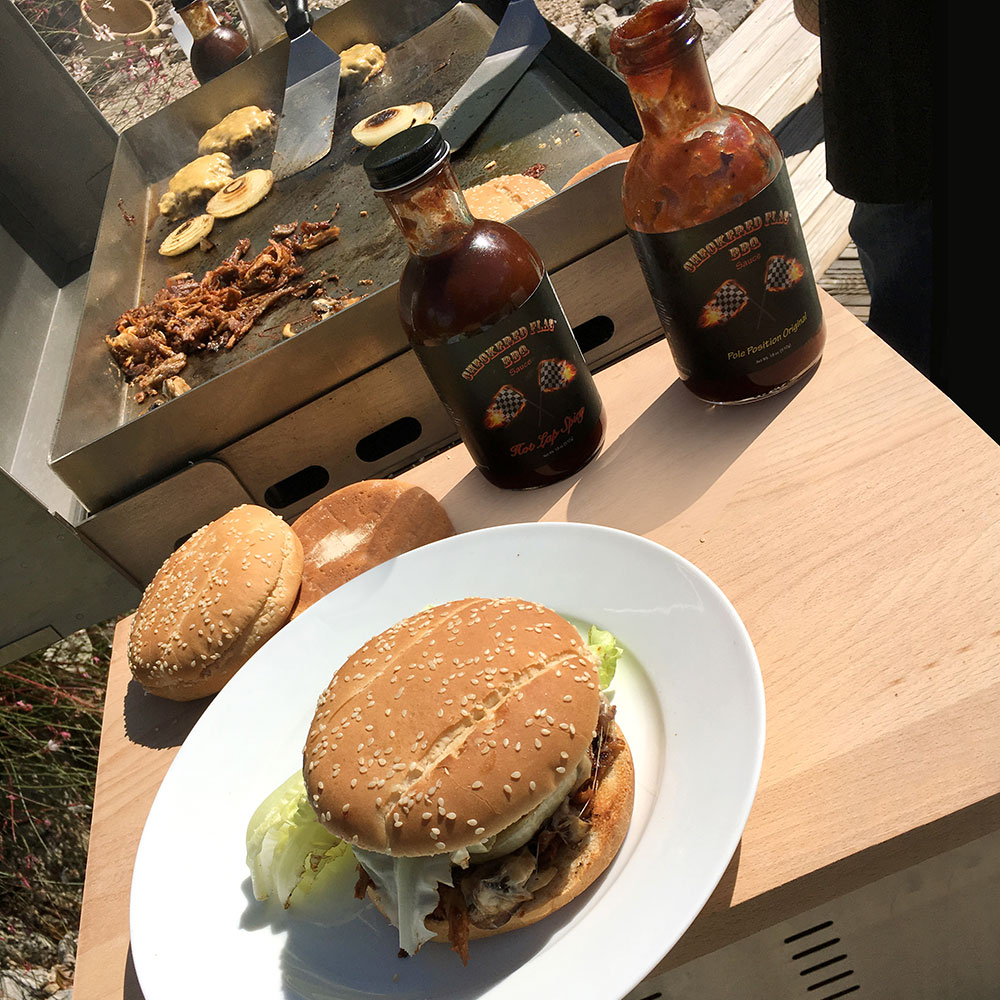 Size : 30 ½" x 18 ¾" x 10"
Material / color : 304 stainless steel – brush finish
Burners : 2 U shape 304 stainless steel
Grilling surface BTUs : 18.000
Dual Fuel : Natural Gas / LP Gas
Ignition : AA battery electronic igniter
Security : Thermocouple valves
Size Cooking Surface : 29 ½ x 15 ¾
Patented DUAL PLATE SYSTEM : 304 stainless steel + cast Iron
Built-in dimensions in non-flammable material : 28¾ x 16¾ x 5¾
Warranty : Lifetime on cooking plate, other parts 5 years
Box Size : 33″ x 21¾" x10½"
Unit Weight : 99 Lbs
Pieces per pallet : 10
Pallet size : 45¼" x 45¼" x 76″
Pallet total weight : 1045Lbs
Le Griddle
YES, IT'S ELECTRIC ! AS EFFECIENT AS GAS
All new for 2020, the Electric Griddle ! No gas & just as efficient with 1800W and 120V. Built with stainless steel 304 & equipped with a 16″ Dual Plate System™. Perfect cooking every time for up to 12 people. The Electric Griddle can be built in or counter top, perfect for outdoor and indoor use.